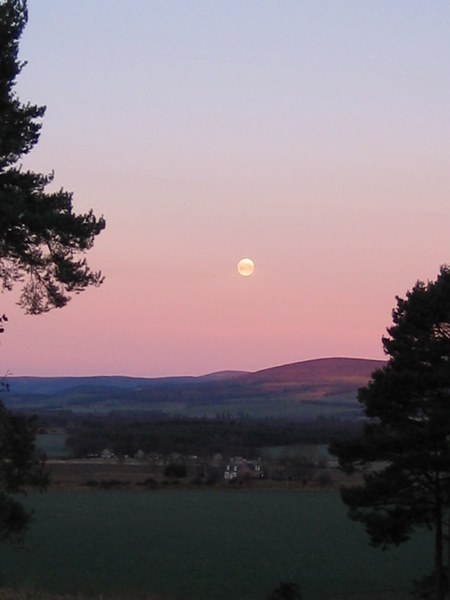 The Alford Image Library
Early morning and a setting moon
A view looking from the Forbes Estate towards Lord Arthur's Hill and the slopes leading up to the Buck in the far distance.
Lord Arthur's Hill was apparently once known as Glaschine Hill. "In the 14th century, an English army 3000 strong was defeated by the Scots 1100 strong under the command of Alexander Gordon of Huntly, during which battle Lord Arthur Cummin was slain and his body interred in the heath. A cairn was erected and the hill became known as Lord Arthur's Hill" (source: The Vale of Alford Past and Present. A souvenir of the Montgarrie Bridge Bazaar 1896). From the description given it would seem likely that the battle described is the Battle of Culblean 30 November 1335, although names of those involved seem somewhat muddled in the Alford souvenir booklet.
Another version of the events is that the name commemorates Lord 'Black' Arthur Forbes, who was killed in 1571 at the Battle of Tillyangus in the neighbouring parish of Clatt, and carried home to Terpersie over the hills here.
I have also heard a further alternative version, involving a local laird, during the Covenanting struggles, hiding on the same hill from the ravages of his enemies.
Picture added on 16 August 2008
This picture is in the following groups
Battles
Comments: