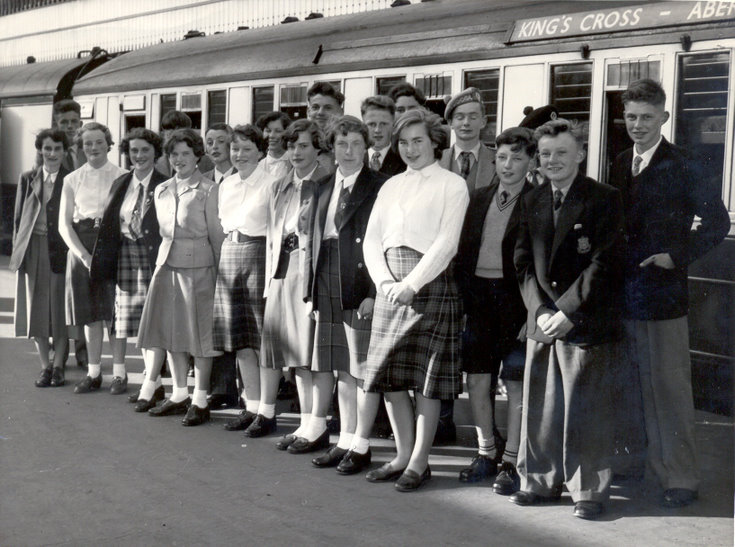 The Alford Image Library
Alford School Trip to Belgium
Forbes says: "I located the attached photo the other day which shows a group of Alford School pupils of Secondaries 1, 2 & 3 who were taken on a school holiday trip of about 2 weeks' duration to Belgium in 1955. The photo was taken on the platform at Aberdeen Joint Station shortly before our departure to London on the overnight 'Aberdonian' sleeper.
The trip was organised by our relatively new maths and science teacher, Mr Connolly, and in those days would be considered to be the trip of a lifetime by many. It was an unforgettable experience, of which I still have mementos, and included an initial day of sightseeing plus an overnight stay in London. We departed for Belgium the following day, which included a 4 hour sail from Dover to Ostend, then on to Bruges where we stayed in the Van Eyck Hotel throughout our holiday. We visited many places of local interest and also travelled to Brussels, Ghent and Blankenberge in Belgium plus a visit to Middleburg in Holland to see the locals in national costume.
Back row ( l to r ):- Ernest Murray, ?, Forbes Watt, Margaret Reid, Leslie Murray, George Esson, Ian Smith, Michael Barron, Grigor Watt ( turi only ), Thomas Begg
Front row ( l to r ):- Dorothy Matthew, Elizabeth Roberston, Eva Law, Hazel Riddell, Beatrice Watt, Margaret ?, June Fiddes, Susan Hilton, Allan ? ( Mr Connolly's nephew),
Sandy Anderson.
Hopefully someone else, who was also on the trip, may be able to fill in the name gaps."
Picture added on 08 January 2009
Comments: