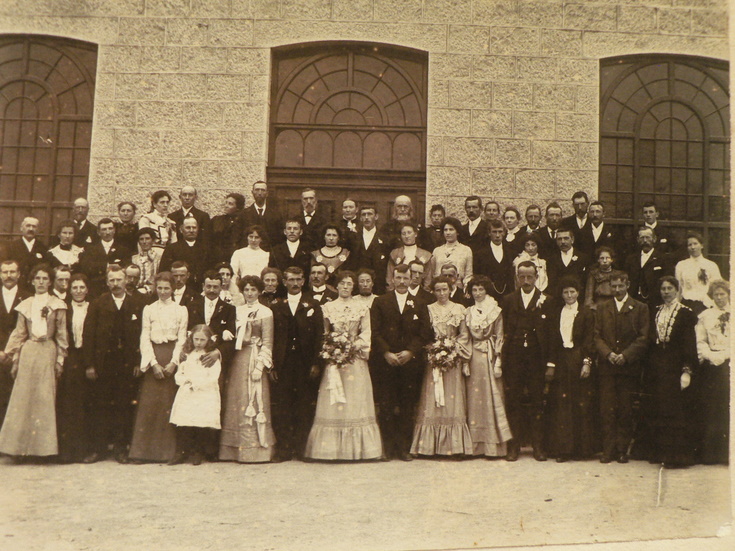 The Alford Image Library
First wedding at Alford Public Hall
Cressida writes: "I am attaching a photograph of my grandparent's wedding on June 8th 1904 at the Public Hall in Alford, it was the first wedding to take place there. My grandmother was Elizabeth Nicol of Smiddy Cottage Muir of Alford and my grandfather was William Reid of Shannoch Farm, Breda. It was a joint wedding with the bride's sister Isabella Nicol to George Hogg. The Reids farmed at Shannoch from 1895 to the 1970s.
The two brides and bridegrooms are pictured at the centre of the front row, the left hand couple are Elizabeth and Willam and the right hand couple, Isabella and George, the bridesmaids are the brides' 2 surviving sisters Mary (Massie) and Maggie Nicol and their three brothers Sandy (the incumbent blacksmith at the Smiddy, Muir of Alford) Harry and Jimmy (later to be the landlord at the Glenkindie Arms Hotel) also feature in the front row with their mother Isabella Nicol (nee Tough).
I hope it is of interest to people and I would also be very grateful if anyone can shed any light on any of the other participants and provide names? also if they can tell me which Nicol brother is which?
I have named the participants, where possible, although some are guesswork (these are italicized)
front row left to right - unknown, unknown, Harry Nicol, Georgina Reid, John Massie, Mary Massie and daughter, William Reid, Elizabeth Nicol, George Hogg, Isabella Nicol, Maggie Nicol, Jimmy Nicol, Isabella Nicol, Sandy Nicol, Elizabeth Brown, unknown, unknown
2nd row, left to right - unknown, Alexander Reid, all the rest of this row are unknown, but the man behind William and Elizabeth could be James Gauld
3rd row, left to right - the first 5 are unknown, Isabella Nicol, John Reid, Helen Ann Reid, 8 more unknown, Margaret Reid
back row, left to right - the first 6 are unknown, Gordon Reid from Shannoch, the remainder unknown, but 2 of them are George Hogg's parents
NB Brothers Sandy, Harry and Jimmy Nicol are definitely in the front row, but I am not sure who is who!
Picture added on 22 September 2008
Comments: