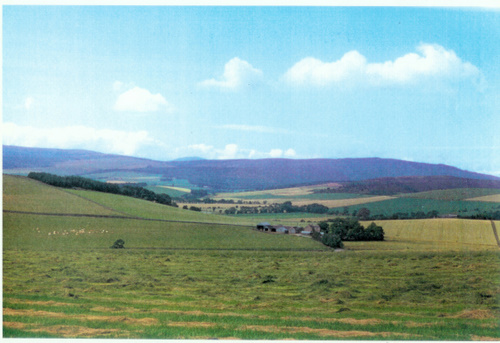 The Alford Image Library
View from Lethenty towards Redhouse
Coilochbar Hill on rhs with the top of Morven behind and the slopes of Pressendye to the lhs.
The place name Lethenty has a potentially very interesting origin, which incidentally fits in with one of the local forms of the pronunciation of the name, i.e. pronounced by some as "Lethnie".
"Leth" is Celtic Scots meaning "a half field", a well documented meaning.
The rest of the name is a little more obscure, but I would suggest the following is possible....."ethenty" or more accurately "enty" or "ethny" is a possible corruption of "Eithne" or "Ethne" and fits that local form of its pronunciation. "Eithne" or "Ethne" was the original name of the Celtic saint St Maedoc of Ferns, an Irish saint from the days of the very early Christian church, and she would have been known by the monks and priests who brought Christianity to the Picts in this area. So the name Lethenty could well mean "St Eithne's half field".
References:
The History of Celtic Place Names of Scotland by W.J. Watson (1926)
and:
Lives of Irish Saints Vol 2 by Charles Plummer (1922)
Picture added on 21 August 2008